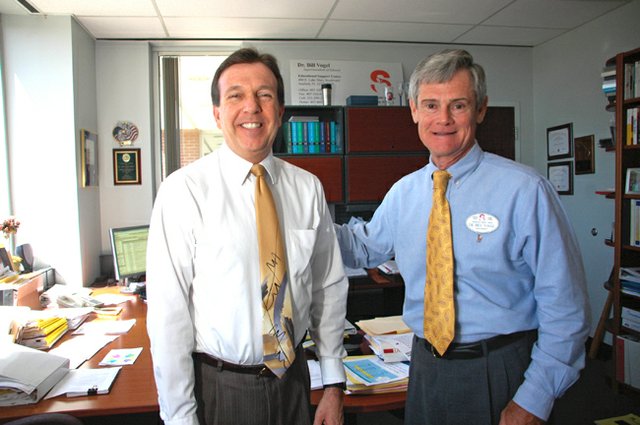 On Saturday, June 30 at 11:59 p.m. a quiet exchange will take place. Keys will change hands, along with last minute instructions and a congratulatory handshake, beginning a new era for Seminole County Schools.
Outgoing Superintendent Dr. Bill Vogel is retiring, trading in the 24-hour, seven-day-a-week nature of the job for a slower pace, hence the late-night handover with the new superintendent, Walt Griffin.
Vogel has served Seminole County as superintendent since 2003. After nearly nine years at the helm, after all the late night phone calls and battles to work with a shrinking budget, he said he thinks he's met his goals.
"When I started, I had a set of beliefs that I brought forward, one of those was that my job was to facilitate the goals of the organization," Vogel said. "When I came aboard, one of those goals was to complete the journey to Unitary Status."
Unitary status signifies that a school district has eliminated evidence of segregation.
Vogel began his career in education during the early years of desegregation, in 1968 at what was then Osceola Junior High.
Back then, Vogel said, his classroom had no air conditioning, there were no separate classes for exceptional students and there were never enough books to go around.
Teachers shared one IBM electric typewriter and one projector for the whole school.
Things have come a long way since then, as has Vogel, though he always called Central Florida home.
From his early days as a teacher, he moved up in administrative duties within Osceola County, eventually becoming their Assistant Schools Superintendent.
In 1996, he was tapped to become the Superintendent of Schools in St. Lucie County and later transitioned to his current role as Superintendent of Seminole County.
Since the court order mandating unitary status was issued in 1970, Seminole County had been struggling toward reaching that goal. It wasn't until 2006 that it was finally achieved.
"After we earned unitary status, it was very important that we kept that promise," Vogel said.
"If there's something that I'm very proud of," he said, "it's nothing that I have done, but that it's everybody working together that has created an amazing result in that our school district every year has improved in student proficiency."
During his time as superintendent, Vogel saw the graduation rate rise from 80 percent to 93 percent thanks in part, he says, to the implementation of ideas like the Transition Program, which was started by Griffin to support students at risk of dropping out.
"There has been a major focus on character education and we have made the 'Triple A' experience, meaning arts, academics, and athletics, part of our culture now," Vogel said.
"I believe that is why students are connected to their schools and why graduation rates are so high," he said
He said he has also accomplished all the remodeling and school building project goals the county had during his tenure.
Despite gaining students from private schools over the past years, according to figures posted by the school board, the county actually has open seats in many schools, leading to the recent dilemma over whether some of the smaller schools should close as a cost cutting measure.
The measure, strongly contested by parents, was eventually rejected, but the budget issues will remain until a more permanent solution is attained.
With Vogel leaving amidst one of the toughest budgetary crises the county has ever faced, Griffin will have a tough job ahead of him.
He'll have to find a way to assuage the resentment of teachers who haven't had a raise in years, causing morale issues.
That's been a difficult issue for Vogel, who emphasized that it's the teachers who get all the credit for the success achieved in Seminole County schools.
Realizing the enormity of the task ahead for the next superintendent, Vogel said "There's always work undone, but now is a good time to hand over the reins [to Walt Griffin], he knows the issues and is the right man for the job."
Come July 1, Griffin will take over and Vogel will get some well-earned time with his family.
'I plan to spend a good deal of time fishing, and diving and relaxing on the West Coast," Vogel said.
"We love going to Terra Ceia Island, so I guess you could find me there," he said.
Never one to walk away completely though, Vogel promised, "I'll still answer my phone, just like always."