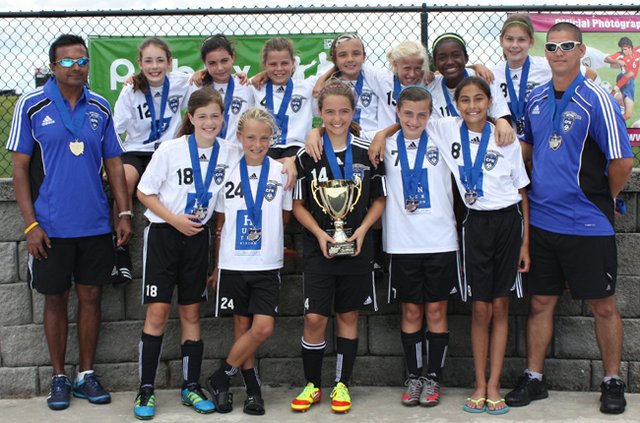 In soccer, a gap of one goal can be an eternity. For the Central Florida Krush U11 team, staring down a 2-1 gap with minutes ticking away on the championship, a win was looking grim.
But they didn't give up, Coach Bindy Singh said. They fought back in the final minutes of the Florida President's Cup Championship in Auburndale on April 22, battling the Cape Coral Cyclones for two dramatic goals to take the lead and the whistle.
The girls then raced around the field in jubilation.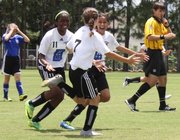 Coach Bindy Singh said never giving up is what is so special about his team.
"The girls don't back down, that's what has made them so tough," he said. "They've surprised everyone."
The victory served as an allegory for a tough season now carried on their backs in triumph. After a long battle of struggling to win, they became undefeated state champions.
"I once said they (the team) will win state championships, you could see the potential; it was there," Singh said. "I just didn't know it would be this soon."
Krush soccer team parent Susan Wilson said to get to the tournament the team had to win 11 back-to-back games, and when they did, it really boosted their confidence.
"They earned it," Krush soccer coach Jean Carlo (J.C.) Rojas said. "It wasn't an easy road for them; they had to fight through a lot of stuff."
Both long-time soccer coaches Singh and Rojas have helped the team achieve this goal, by passing along their own skill and determination to the girls.
For more information on Central Florida Krush/Kraze Soccer visit cfksoccer.com
"They had the skill, but nobody was around to mold them," Rojas said. "Bindy and I came together to mold them and give them discipline and direction."
Krush soccer team parent Mark Hamilton said both coaches have inspired his daughter Trinity to pursue her soccer dream through college.
"Trinity sleeps soccer," Hamilton said. "She doesn't walk through the house, she dribbles her way through."
Krush soccer team parent Deb Parent said the coaches have impacted the team in a tremendous way.
"We knew that the team could do it when Bindy and J.C. took over," she said. "We just needed organization."
The team accomplished this organization with the help of two coaches, five new players and a new strategy.
"We just changed the system of how it works," Singh said. "It went from one dimensional to basically three dimensional."
Looking ahead to next season, the team hopes to bring the heart of the game that has driven them this far, even further.
"Our girls taught me a lesson, to never give up," Singh said. "I can't make them play; it has to come from their heart."