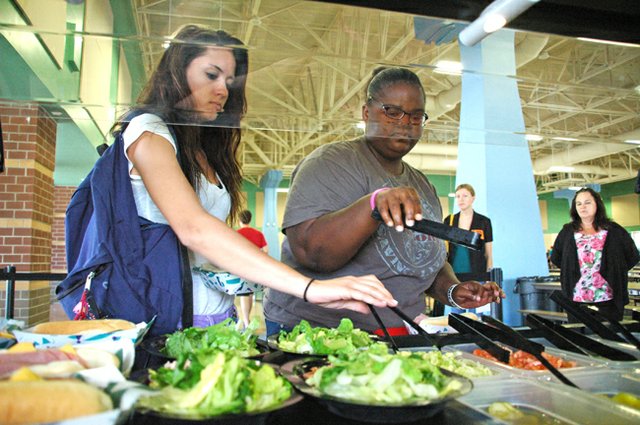 Through the double doors, past the long lunchroom tables and tucked in the corner of the Oviedo High School cafeteria, a snaking single-file line of students steadily flows toward the school's newest lunchtime installation.
It's 11:08 a.m. — three minutes after the first lunch at Oviedo starts — and the lines start stacking up. While many students still flock to other side of the cafeteria for the classic lunchroom pizza or today's special meatball sub, the ones in this zigzagging line are looking for something a little greener.
Trays at this Nature's Deli salad bar, donated to Seminole County Public Schools along with seven others by Oviedo-headquartered Duda Farm Fresh Foods in April, starts with a simple turkey or ham and cheese sub and a bed of lettuce. From there, students can choose what toppings to add from the bar's selection of fresh fruits and veggies, as well as a drink of either milk, water or juice, and a side of baked chips or an apple — all for $2.75.
"It always seems really fresh, and I like getting a choice of what to put on it," senior Cassandra Vivian says, loading her sub up with olives.
"It's pretty awesome," junior Chris Guzman says, his tray full. "As a health nut, it's pretty great."
SCPS Assistant Director of Food Services Chad Wilsky said the district has offered these fresh food options to students for years, but this school year, it has been working on different ways to present them to make them as a more alluring choice.
From the freestanding salad bar model seen here, to incorporating Nature's Deli lines in with the traditional hot food service, he said Seminole County Public Schools is working to lead the way on how best to incorporate healthy, fresh foods into students' lunches.
"It's all about how it's packaged," Wilsky said. "We've always offered fresh, local produce every day… but it's about giving students a choice and the ability to make it how they want."
Since the freestanding salad bar was installed at Oviedo on April 3, he said food services has gone from selling an average of 11 or 12 prepackaged salads, to 30 make-your-own salads from the bar a day, a stat Wilsky is hopeful will continue to grow next school year.
The seven other salad bars donated by Duda Farm have been or are scheduled to be installed at Hagerty, Lake Brantley, Lyman and Lake Howell high schools, and Red Bug and Rainbow elementary schools.
Duda Farm Fresh Foods Inc. also donated 40,000 pounds of fresh produce to SCPS' Families in Transition program in December. President Dan Duda says for his company it's all about promoting its mission of healthy eating, while giving back to the community.
"Supporting salad bars in schools provides additional options for students to enjoy the benefits of incorporating more fresh fruits and vegetables into their diets to promote healthier lifestyles," Duda said. "…It's been a special and unique experience just to see the joy and appreciation that the students have for having the salad bar and having some choices."
Just before noon across town, lunch is just getting started at Lawton Chiles Middle School. Here, a Nature's Deli salad bar has been incorporated into the hot food services line, which Wilsky says opens more options for expanding healthy hot food options, like hot pressed sandwiches.
It is here in middle schools, he says, that the food services department has seen the greatest success of the salad bars, selling 30 to 40 a day.
As students fill the cafeteria, the decibel level grows, and food services workers work to keep supplies stocked and kids' trays full.
"Don't forget to get a fruit!" worker Auden Joseph yells over the commotion, chasing down a student who forgot his apple.
Sixth-grader Elizabeth Morgan is one student who never needs a reminder to add something fresh or green to her plate. As she says she's done nearly everyday since it opened earlier this year, Morgan fills up her lunch tray from the salad bar — today opting for a sub, which she loads up with lettuce and olives, and grapes and a carton of milk on the side.
"I really like that you can chose what you want and make it your own," she said. "Like if you don't want tomatoes you don't have to have any… Eating from there, it makes me feel a lot healthier."
And that, Wilsky says, is Seminole County's ultimate goal: healthier, happier students.