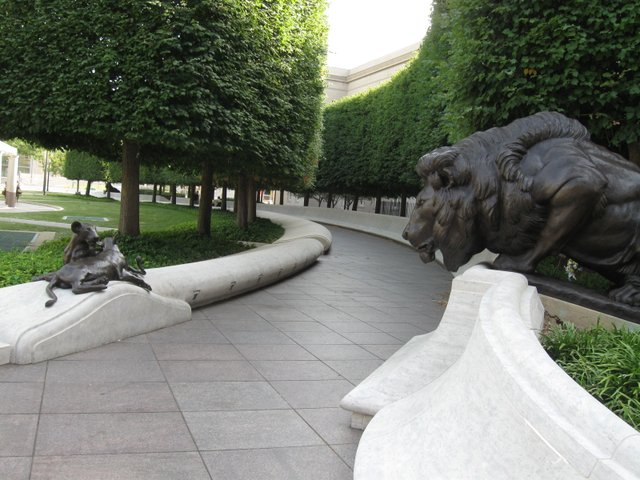 The twin walkways are cool and curved like the smooth blue-gray marble walls that border them. Amid these two pathways of remembrance, 10,000 blooming daffodils are planted each spring complementing the grassy carpets and lush, manicured trees. It is a bittersweet place. One that stirs our best emotions and darkest fears: serenity borne of sadness, honor from horror, and commitment over cowardice. This is the National Law Enforcement Memorial in Washington, D.C., where family, friends, strangers and brothers come to quietly honor America's finest and fallen local, state and federal officers.
Fifty Years Later
In 1962 President John F. Kennedy proclaimed May 15 National Peace Officers Memorial Day and the calendar week in which it falls as National Police Week. Fifty years later, for every daffodil planted, there are two names engraved on the memorial walls. The names of nearly 20,000 law enforcement personnel are permanently honored at the National Law Enforcement Memorial, which will observe its 20th anniversary this October. From 1791 to the present, these names represent more than 220 years of ultimate sacrifice. In addition to the daffodils, the three acres at Judiciary Square accept a somber offering each April — the addition of the names of officers lost the previous year.
Many Serve & Sacrifice
Of the more than 900,000 men and women who serve in law enforcement in our country today, 163 officers lost their lives in the line of duty in 2011.
Every year our own Seminole County brothers and sisters in service come together to remember the fallen of Seminole County, which until December 2011 remained a list of five Deputy Sheriffs: Eugene A. Gregory (1998), Hugh E. Thomas, Jr. (1989), George Pfiel (1977), Robert O. Moore (1975), and Cleveland Jacobs (1922).
Sadly, Seminole County lost a sixth officer last year, a true and honorable deputy, our own Seminole County Deputy Sheriff Matt Miller—end of watch December 26, 2011. Deputy Miller was a 28-year veteran of law enforcement, who served five years with the Longwood Police Department and joined the Seminole County Sheriff's Department in 1988. Miller was one of the first members of the newly formed motor unit in 1992, and sadly lost his life when a vehicle turned directly in front of his motorcycle.
Drive Safely Campaign
According to the National Law Enforcement website, 2010 was the 13th year in a row where more law enforcement personnel died from traffic fatalities than from gunfire. The Drive Safely campaign strives to reduce law enforcement traffic fatalities by increasing motorist awareness. Show your support by purchasing a T-shirt, license plate or National Law Enforcement bumper sticker, which features the red rose and blue shield at the center of a steering wheel. Consider signing the pledge of safe driving and observe these ten suggested rules:
Focus on driving.
Give officers room on the roadway.
Move over when you see an officer pulled over.
Never drive on the shoulder.
Watch an officer's hands as they direct traffic.
Drive only when sober.
Drive within the speed limit.
Keep the volume of your car radio at a reasonable level.
Don't wear headphones while you drive.
Report drunk drivers.
This year the remembrance of our six fallen deputies will be held on Thursday, May 24, at the Seminole County Sheriff's Office on Bush Boulevard at 10 a.m. It is a moving ceremony that celebrates how these brave men lived, and how each of our active duty personnel protects and serves us daily. For more information on how to support our law enforcement family, visit nleomf.org or seminolesheriff.org
Save room for spaghetti
Take a break from the kitchen this Sunday, May 20, and head over to the Geneva Community Center where our Boy Scout Troop 837 will host their awesome Spaghetti Dinner fundraiser from 11 a.m. to 6 p.m. For $5 you get spaghetti, salad, dessert and a drink — and help these fine boys attend summer camp.