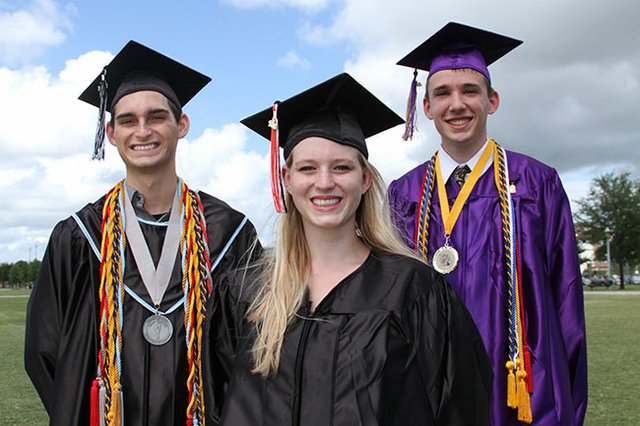 Look for lists of the top graduating seniors from Winter Springs, Oviedo, and Hagerty high schools below.
One was co-captain of his debate team. Another was drum major of his school's marching band. And the third was a part of more clubs and sports teams than you can count on one hand.
Hailing from Oviedo, Hagerty and Winter Springs high schools, these top students know that it takes more than grades to make your way into the real world. In between cleaning out their lockers and preparing their graduation speeches, each student revealed what they got out of their time in high school, their plans for the future and what advice they want to impart to their classmates.

Sam Hendley, Winter Springs High School
According to Winter Springs High School valedictorian Sam Hendley, "It isn't enough to be smart. You have to be a hard-working person." And Hendley certainly lives up to that standard. In addition to being a top student, the 18-year-old found time for his passion for music. Hendley plays cello, oboe and saxophone and is a member of the Florida Youth Symphony Orchestra. Hendley was also drum major of his school's 160-member marching band.
After going to countless football games, one of the things Hendley most looks forward to when he arrives at the University of Florida next fall is SEC football. He hopes to be a part of the marching band or one of the university bands, but if classes prevent that, he'll still search for a community orchestra.
"(Music) has always been a big part of my life," he said. "It would be nice to be a part of a community orchestra or the school of music. It's gonna be a big decision for me, whether I do marching band."
Hendley plans to major in physics, because, as he's quick to point out, "I have the utmost respect for engineers, but my mind doesn't work like that." Although he was accepted into his top choice for college, McGill University in Montreal, Hendley chose UF to save money, but he hopes to still attend McGill for a master's or doctorate degree.
The Voice profiled Oviedo High valedictorian Neel Patel last week. If you missed the story, click here.
Allison Coleman, Oviedo High School
Salutatorian Allison Coleman may dream of curing diseases sometime in the future, but first she had to deal with a small medical crisis of her own. Her most embarrassing high school moment: passing out while giving blood. "I think the lady was pumping my blood too fast, so I kinda fainted." After she was dismissed, Coleman tried walking back to her classes, but was too dizzy to walk. "I just laid there on the ground, because I couldn't move, if I moved, I would've fallen."
But she won't let her dreams grow faint because of one bad experience. Coleman will attend UF next fall to study pharmacy, hoping to become a pharmco-genomicist. Coleman said she wants to enter a cutting-edge field that will allow her to analyze a patient's DNA and tailor a cure to each one's specific condition or disease. By the time she finishes her courses this summer at Seminole State College, she'll be finished with the two years of her undergraduate degree.
It's tough to find an activity Coleman didn't do. She was a member of the National Honor Society, the Spanish Honor Society, Key Club and numerous other honors organizations, and she also was a member of the soccer and weightlifting teams. The secret to her success, she said, is being organized. "My days are very organized. I do my homework early and get it done in school."
Michael Scimeca, Paul J. Hagerty High School
For Michael Scimeca, becoming valedictorian was "a long and arduous process." Scimeca, who grew up in a military family, set his sights on valedictorian early, but he bounced around multiple schools early on. When he first enrolled at Hagerty, his mom was worried that he couldn't handle it. "(She) was always worried that I wouldn't be prepared for high school. I told her that … I would study all year and I would get straight A's. And I did."
The 18-year-old plans to study biomedical sciences at the University of Central Florida's Burnett Honors College, and he is also interested in psychology and cognitive studies. "I'm more interested in the neuroscience aspect of medicine and biology," he said. "So anything where I can combine medicine and aspects of psychology is something I'm looking into."
Co-captain of the school's debate team, Scimeca cautions against "senioritis" as a formidable threat on his way to the top of his class. "I always said it wouldn't happen to me, and then you hit second semester and I was like, 'I don't want to do any of this,'" he said. "It doesn't matter what scholarships or schools you've been accepted to. You could lose all of it in minutes if you decide to slack off and lose focus. "
Hagerty High School (top 25 students) In Alphabetical Order
Albers, Ethan R. – Kase Western Reserve University
Ankli, Sarah K. – Rollins College
Baker, Bradley T. – New College of Fla.
Benedict, Kaily C. – UF
Chehab, Sabrina A. – UCF
Dickerson, Amy E. – UF
Dunne, Shannon M. – UF
Edwards, Monique N. – UM
Floeter, Austin M. – Virginia Tech
Geiger, Mackenzie E. – UF
Gisel, Andrew R. – UCF
Haywood, Taylor J. – UF
Latrobe, Alyssa J. – FSU
Le, Paulina B. – UCF
Medin, Kyle A. – FSU
Menning, Hunter W. II – UCF
Minnis, Brent M. – UCF
Moser, Justin W. – UCF
Nowotny, Rachel M. – UCF
Pomeroy, Justin J. – Rollins College
Rossow, Heidi L. – UF
Royero, Melissa R. – UCF
Scimeca, Michael D. – UCF
Yanes, William R. – Seminole State College
Yeargain, Tyler Q. – UCF
Oviedo High School (top 24 Students) In Alphabetical Order
Babuji, Ashwin
Bass, Melinda Megumi
Borkholder, Alex William
Coleman, Allison B.
Epstein, Rebecca Layne
Futato, Annie Davis
Hamstra, Justin Daniel
Hensley, Thaxter Cole
Huynh, Michael Huy
Khan, Nirvani Devi
Koller, Brandon Michael
Patel, Neel Sanjay
Rathakrishnan, Arjith V.
Reilly, Ryan Patrick
Roberson, Dana Nicole
Roberson, Rachel Lynn
Robey, Keelyn Renee
Rogers, Cory Oliver
Shepherd, Natalie Morgan
Sims, Olivia Brooke
Thomas, Karen Ann
Van de Houten, Brandi M.
Van Ravenswaay, Gabrielle
Weinbel, Ellenor Grace
Winter Springs High School In Alphabetical Order
*Because of an editing error, the earlier version of this list was incomplete.
Thomas Barfield
Cody Beebe
Joseph Bonura
Matthew Brock
Kelsey Carew
Meredith Ciocca
Paula Cusi
Matthew Darby
Holly Debevoise
Kelsey Deese
Nathan Dekrey
Sean Diamond
Rhea Dorris
Cayce Dossett
Christopher Duncan-Lewis
Courtney Dygert
Blake Edwards
Katelyn Edwards
Tyler Etheridge
Olivia Flail
Matthew Gerken
Mary Gossett
Ross Harrington
Taylor Hoch
Alexander Holmes
Veronica Holmes
Tyler Jeski
Joseph Jurbala
Meagan Kaman
Amanda Kastrinos
Dillon Kelly
Kristiana Kenney
Jennifer Knipe
Natalie Lawlor
Jihyun Lee
Jade Lewis
Kimberly Lock
Zachary Loparo
Jacob Mould
Jennifer Mullis
Elizabeth Nguyen
Timothy Nguyen
Nicole Ortega
Cassidy Pillow
Andrea Reyes
Alyssa Rhinehart