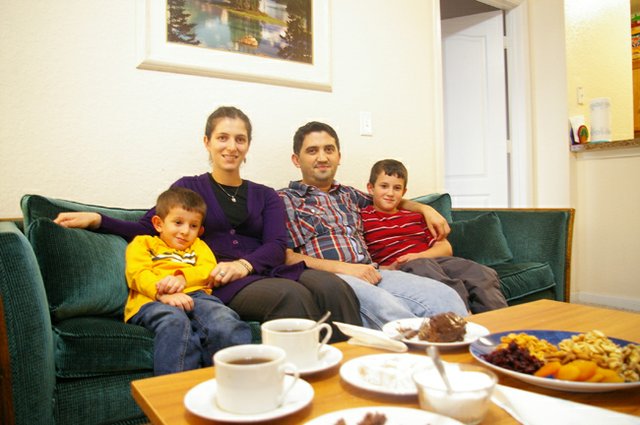 This is the first installment of a three-part series that examines the need for English language education through the perspective of Seminole County residents.
Behind the clubhouse of the Tradition at Alafaya apartments in Oviedo, a group of women sit around tables in an outdoor enclosed pool area and wait for the school bus to bring their children back from Evans Elementary School. A resident at the apartments, Fatmah Demirhan, speaks with the other mothers chatting amongst themselves. But there's a barrier between them that none of the women can see, though they're surely aware of it.
She can hear them, but only in pieces. She can speak, but only in a first-grader's English.
Originally from Ankara, Turkey, Fatmah, her husband, Cihan, and her sons, Ertugrul and Kadir Kaan, have been in the United States since December 2011, coming to Orlando so Cihan can earn his Ph.D. in public administration at the University of Central Florida.
Like many people, Fatmah came to live in the United States without knowing the English language, a situation that has made it difficult for her to make friends. Though she and her family will only be in the country temporarily while her husband earns his degree, Fatmah wants to meet new people in this unfamiliar country.
"We will be here for three years, and I want to communicate with people; I want to know people," Fatmah said. "Without English, it's impossible."
Though she can read, write and understand English, Fatmah is still learning to speak the language, often relying on her husband to translate for her. In an effort to learn to speak like an American and communicate freely, Fatmah takes language classes at Winter Park Tech and plans to do volunteer work as a school teacher's assistant to force herself to speak.
"People don't want to be around me too much, because without speaking, they are bored," Fatmah said. "People, since they are bored, they don't want to be together with people who don't know English. It makes life difficult for people who don't know English."
Fatmah's situation isn't uncommon. According to estimates from the U.S. Census Bureau's 2011 American Community Survey, 21,545 of the 424,071 people who live in Seminole County speak English less than "very well," revealing a language barrier that affects 5 percent of the population.
Five miles north of Fatmah Demirhan lives Sarojben Patel, who emigrated from India with her husband, Chandrakant, only six months ago. Sarojben points at pictures to communicate and also relies on translation from her husband, who has lived in the United States since 1981.
Instead of a temporary stay, Sarojben hopes to call the United States her new home and become a citizen when she is eligible in three years. With literacy and fluency in English being a requirement for citizenship, Sarojben is driven to learn.
"English is the main language for my life, because I want to stay here my whole life," Sarojben said. "It is most important to learn English."
After learning the language, Sarojben also plans to learn how to drive and will eventually pursue a job at Target as a sales associate.
To reach these goals, both Sarojben and her husband attend free English classes at First Baptist Church of Oviedo, which uses the classes as a form of ministry and service to the public.
Ministry Director Elaine LaBalbo said it's crucial for them to learn the English language. There are 101 different languages spoken at home in Seminole County, according to Seminole County Public Schools. But outside the home, that number drops off dramatically.
"Most of them go to a doctor who speaks their own language, but what if they have to go to the emergency room?" LaBalbo said. "I'm guessing the hospital is not going to have somebody who speaks every one of those languages, so there are certain things that they need to be able to say when they go to the hospital."
Knowing the language is crucial for important tasks such as filling out job applications and paperwork at a doctor's office, LaBalbo said. That's where classes at the First Baptist Church of Oviedo come in. But they also go beyond, teaching students about the culture of America, explaining the holidays, customs and traditions of the country.
Cihan said that sharing elements of culture such as these is the most important reason for social interaction.
"We want to know other people from other cultures, and we want to know American people," Cihan said. "Also, we want to show our culture. Humans are social animals."