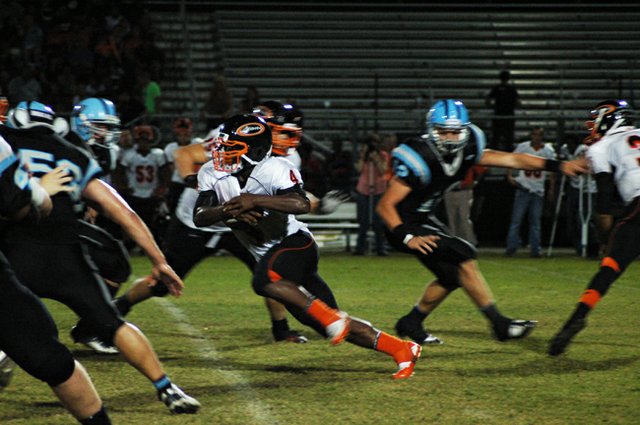 Oviedo versus Hagerty
The Hagerty Huskies (0-5) scored more points in one game than they had in the four previous games combined, but they couldn't stop the Oviedo Lions (4-1), who rolled to a 35-13 victory on Hagerty's home field on Sept. 28.
The Huskies get a chance to save face at home this Friday, Oct. 5, against a University team coming off a 33-18 loss, but they'll have to build on the offense they showed against Oviedo.
The game started as an offensive stalemate, as both teams traded touchdowns to keep things interesting in the first quarter. Huskies quarterback Jason Driskel led his team down the field easily while his brother and UF quarterback Jeff Driskel watched from the stands.
But heading into the second quarter, the game turned into a showcase for Jurell Green's speed. The Oviedo running back knifed through the Huskies' defensive line with ease, racking up 212 yards in the game en route to three touchdowns. Two of the three came on long runs from just inside field goal range.
And as the Oviedo Lions showed why they have one of the best offenses in the state, the Huskies struggled to keep up, eventually managing a second touchdown in the fourth quarter. But by then the damage was done. Having only scored 9 points the entire season, the Huskies capped off the game with 13 more, but they couldn't stop the Lions.
The Huskies will host University (3-1) at 7:30 p.m. Friday.
Oviedo gets a week off before taking on a 2-2 East River team on Oct. 12.
Winter Springs
The Bears will have the benefit of hindsight from a 47-0 loss to Lake Brantley on Sept. 28. Plus they'll be going against a team that's struggled this season when they face Edgewater (1-3) on Friday.
The Patriots had no trouble getting out ahead of the Bears' defense in a hurry in their blowout win, exploiting holes in the defense early, then wearing them down.

Lake Brantley (4-1) scored three touchdowns in the first quarter then cruised for the next three with some big running plays thrown in. Their final touchdown of the night came after one of the best defensive positions the Bears had been in the entire game, holding the Bears to their own 12-yard line before Caleb Ross ran nearly the length of the field for the final score.
For the Bears a chance at redemption will have to come on Eagle territory, with the Bears traveling for their 7:30 p.m. Friday showdown.