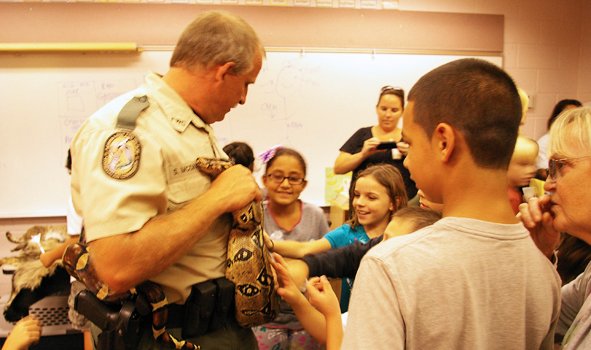 In a crowded elementary school classroom filled with students, parents and teachers, anxiety lingers as a police officer speaks to the audience. The children sit front and center on the classroom floor, raising their hands to ask questions.
Most of the parents in the room look slightly nervous, a stark contrast from the looks of excitement on the student's faces. The police officer, adjusting the 9-foot-long Boa constrictor wrapped around his waist, points at a boy raising his hand.
State Police Officer Steve McDaniel of the Florida Fish and Wild Life Conservation Commission was just one of the many presenters at Stenstrom Elementary School's STEM Night on Tuesday, Sept. 25. The event introduced the school's new program to get students excited about careers in science, technology, engineering and math.
"It's almost like a career night for elementary school kids, but focused in the science, technology, engineering and math areas," said Whitney Astacio, a PTA board member at Stenstrom who volunteered at the event.

With 21 different exhibits on display, the gathering featured an array of STEM-related professionals, from veterinarians that saved the lives of pets to rocket scientists that designed spacecraft.
McDaniel, whose wife teaches at Stenstrom, told the children "war stories" about his encounters with bears and alligators, using his knowledge of animals and their behavior to reflect the science aspect of STEM.
"I'm doing the science part because of the wildlife we do," said McDaniel, who also brought two skunks in addition to a 35-pound Boa constrictor. "A lot of our rules and the way we do business in Florida with wildlife is done through science and biology, so being a police officer with that, we get tasked with understanding the biology of the different animals we have to deal with."
Put together by Stenstrom's PTA, the new STEM Program will include classes that focus solely on STEM areas. Stenstrom teacher Pam Colton began teaching these classes to kindergarten through 5th grades in August, and hopes that the STEM Night event will help spark their interest in the classroom.
"I know a lot of times kids will think about math or science in a very limited way, so we try to really open their eyes as to the fact that they can really have a lot of fun in whatever field they choose within STEM," said Colton, who has taught at Stenstrom for eight years. "Hopefully it really motivated them and excited them."
The opportunities that Stenstrom's STEM program brings may not only mean exciting careers for the students, but a continued future for the school itself, which was on the list of schools to close last year.
"We started thinking last year when our school was one of the schools that was being discussed to close, what can we do to make us unique in our offerings?" Stenstrom Principal Sharon Tanner said. "What can we do to have the cream rise to the top, that to close a school like Stenstrom would really have a negative impact on the students and their achievement?"
For Stenstrom, the answer was STEM.
By 2012, 15 of the 20 fastest growing jobs in the U.S economy will involve an emphasis on math and science, according to the U.S. Department of Labor.
And that's an answer that schools will have to come up with in a hurry, Tanner said. By 2014, 15 of the 20 fastest growing jobs in the U.S economy will involve an emphasis on math and science, according to the U.S. Department of Labor.
PTA president and STEM Parent Coordinator Betsy Jewell said that by promoting an interest in these careers, Stenstrom is preparing the future leaders of the U.S. and qualifying them for STEM jobs, many of which go to qualified workers in other countries.
"We, the United States, need to find a way to educate our students and get them excited about careers in STEM industries, and we need to start it as low as elementary school, because if you plant the seed here, they learn to love it and they get excited about it, then, as they grow and get older, they're going to want to continue that kind of education," Jewell said.
Jewell said that the turnout for the STEM Night event exceeded every expectation she had, welcoming roughly 350 of the school's 600 students.
Stenstrom's PTA hopes to keep the school moving forward with the help of the new program. After a great deal of support and positive feedback from the parents about STEM Night, the PTA plans to continue to focus on the STEM classes and plans on holding another STEM Night before the Christmas break.
"Whenever you say our name, I want people to associate Stenstrom with 'STEMstrom,'" Tanner said. "STEMstrom, yeah that's the place where those kids are rockin' and rollin' with STEM. That's what we're after."