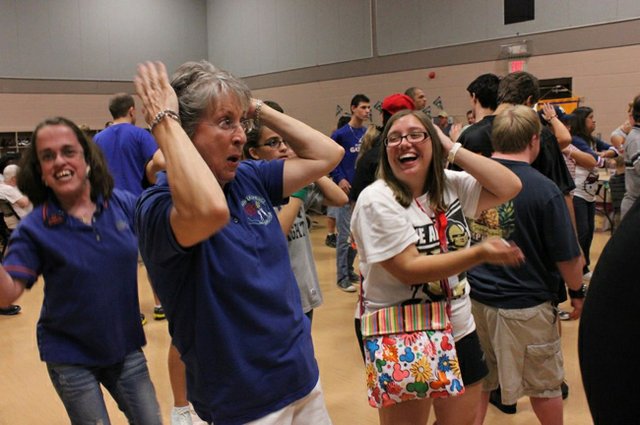 One Friday night a month, in between the popping sounds of tennis balls hitting racquets and skateboards grinding railings, the slight echo of thumping bass reverberates through Riverside Park in Oviedo.
Following the source of the pulsing takes you to the center of the park, to its multi-purpose room. A step inside, and the popping and grinding park noises are drowned out by the syncopated beat of the "Macarena" echoing through the hall, only seconded by the light sound of laughter that continually bounces off the walls.
Right hand out, followed by the left, then flip-flip, shoulder-shoulder, head-head, hip-hip, a shimmy and turn. More than 100 people fill the room's makeshift dance floor busting their best-choreographed moves to the beat. They might not all hit their moves at the right time, be facing the right way, or keep to the beat, but in this moment, it doesn't matter.
And dance organizer Anne Marie Sargent with the Oviedo-Winter Springs Optimist Club says that is what makes the monthly event special, in more ways than one.
This Sunshine Dance Club is open to any and all members of the local special needs community. It's one night a month where you're welcome and encouraged to roll your wheelchair through the conga line, use your walker to get extra air during your "Cha Cha Slide" hops, or break out in an air guitar solo during "Don't Stop Believing," which has got you kneeling and rolling on the floor in enthusiasm.
"All these kids and adults want is a place to go and have fun with their friends… They just want to have fun and not worry about being laughed at. Here nobody is looking at what you're wearing or how you dance, it's just about fun," Sargent said.
Started in Oviedo by the Optimist Club in 2010, the Sunshine Dance Club is modeled after similar dances offered in Altamonte Springs, where special needs-mom Sargent would take her daughter Julia. Recognizing the need for a more local event, she proposed the idea to the Optimist Club and then to the city. From there she's contacted other different local charities to sponsor the event each month.
"On top of what we're doing for the kids, we want to get the community aware of the people in their community with special needs and to get comfortable with them," she said.
Helpful Hands, an Oviedo organization that focuses on helping to improve the quality of life status for local people in need, sponsors two of the dances a year.
For more information about the Oviedo – Winter Springs Optimist Club, including how you can get involved with the monthly Sunshine Dances, visit owsoptimistclub.com. For a schedule of upcoming Sunshine Dances, visit cityofoviedo.net/node/1727
To learn more about Helpful Hands, visit helpfulhandsseminole.com
"Imagine how intimidating life is when you just want to dance, but you always have to worry about being maybe laughed at or judged," Helpful Hands President and Co-founder Regina Bereswill said. "This way we kind of help to break down that barrier."
"It gives them that ray of sunshine, that sense of normal," adds Helpful Hands board member and Oviedo City Councilwoman Cindy Drago.
Sponsoring the event, the organization rallies its volunteers to provide food, prizes and fun for the kids and parents that come out to dance away their differences.
"It's nice because this is the place they get to come and don't have to worry about anything… there's no inhibitions," said Jasmine Decker, who regularly attends the dances with her brother.
But the fun isn't limited to those who are out their dancing, says Oviedo-Winter Springs Optimist Club member and Sunshine Dance volunteer David Pudles.
"You can be having the worst day in the world, and you come here and your attitude totally changes," he says, a broad smile on his face.
Looking around the room during the dance, you'd be hard pressed to find a face without a smile. But when Sargent looks out on the 100 smiling faces and starts to reflect on what this dance really means to each of them, her daughter included, she can't help but get emotional.
"It's just so great to see them having fun. Unless you have a child with special needs…" she says, trailing off to pause and shake away tears. "There's just not that many places where they can go and really enjoy themselves and have a good time."
Her daughter Julia says her favorite thing of the dances is getting to hang out with her friends and break it down to the "Macarena," which she did earlier in the night, her mom busting a move right alongside her.
They may not have all been on beat, been facing the same way or doing the moves in choreographed order, but it's OK. And they all agree, that's the whole point.