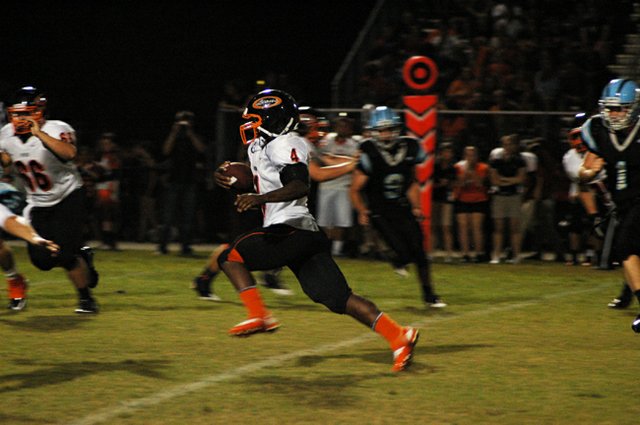 Oviedo's offense may have run all over East River in a 43-22 win on Oct. 12, but on Thursday, Oct. 18, they'll be traveling to face an Edgewater team that's on the comeback trail.
Oviedo (5-1) have faced a relatively weak schedule so far, only facing real challenges against Seminole and Lake Brantley, which they split.
Against Edgewater (2-4), they'll deal with a team that's struggled on offense when up against tough defenses, but Oviedo isn't known for defense this year.
J.B. Woodman at quarterback for the Eagles has found daylight to the tune of 100-plus yards against even stifling secondary defense. Meanwhile Oviedo's Jurell Green has had little trouble amassing that yardage and more on his own two legs.
They'll find each other on the field at 7:30 p.m. Thursday, Oct. 18, at Edgewater.
Hagerty
In a gutsy performance that tested their resolve, the Huskies edged out a 34-32 win over Minneola last week to turn what had been an 0-4 season into one that's emerging into a two-game win streak.
The timing couldn't be better for Hagerty (2-4), who are gaining strength just as they travel to face Lake Brantley. The Patriots (6-1) have had no problem dispatching every Seminole County team they've faced.
Leveraging a monstrous offense that's averaged 35 points per game in their six wins, the Patriots have seemingly been unstoppable. Now it's Hagerty's turn to try, kicking off at Lake Brantley at 7:30 p.m. Friday, Oct. 19.
Winter Springs
After a season-opening win turned into a five-game nosedive, the Bears are still looking for the moment they pull up. At 1-5 on the season, and coming off a 20-6 loss to Timber Creek, they'll get a rest before taking on Lake Howell at home Oct. 26.