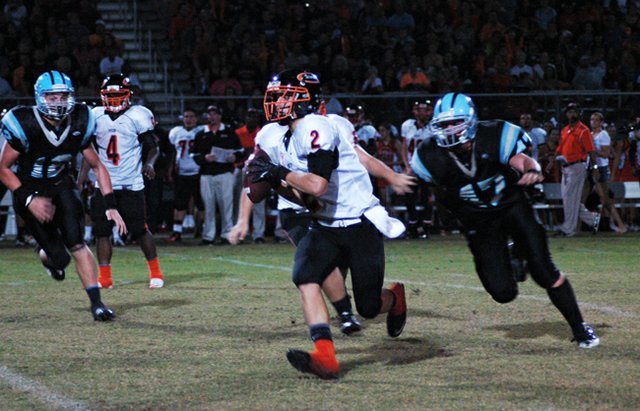 Oviedo
A narrow 20-19 win over Edgewater (2-5) saved Oviedo's record, but it was also the lowest-scoring game the Lions (6-1) have had all season.
Now this Friday, Oct. 26, they'll line up against an Oak Ridge (5-2) team that's coming off a 28-6 obliteration of Winter Springs.
The Lions will have to recover their usual style of offense in a hurry. And that may have to start with Jurell Green. The sophomore rushing phenom was nowhere near his customary 200 yards per game on the ground against Edgewater, settling for only 70 on 22 carries.
Meanwhile quarterback Chris Davis took his skills to the sky, airing out the ball for 146 yards, all but one of his passes landing in the hands of wide receiver David Joyce, who had played quarterback last week in Davis' absence.
The Lions will have to shake things up against Oak Ridge, which has made a habit of holding offenses at bay. In three of their wins this season they've held opponents to a touchdown or less.
That game will kick off at 7:30 p.m. Oct. 26 in Oviedo. After that, Oviedo faces the Bears on the Bears' home turf. That game kicks off at 7:30 p.m. on Nov. 2.
Hagerty
The Huskies (2-5) tried to make a game of it against Lake Brantley (7-1) on Oct. 19, but they fell 37-10 in the end.
Hagerty scored first on a three-yard run by Anthony Fiorini, but then watched Lake Brantley score five unanswered touchdowns over the next three quarters to bury them before a late field goal by the Huskies made the score a final.
Now the Huskies face another tough challenge traveling to Seminole (3-4). The 'Noles are coming off a narrow 25-23 loss to Lyman last week. That game kicks off at 7:30 p.m. Friday. After that, the Huskies will face a struggling Lyman (4-4) on Nov. 2.
Winter Springs
The Bears (1-6) still can't seem to snap their losing streak after winning their first game of the season. They watched Oak Ridge bowl them over 28-6 last week, their sixth game this season scoring a touchdown or less.
They'll have possibly their best shot all season to do it against Lake Howell (2-5), which has had their share of scoring woes. But a recent offensive resurgence by the Silver Hawks, tripling their average score in the last two games, could pose trouble for the Bears.
That game kicks off at 7:30 p.m. Friday. After that, the Bears face perennial rival Oviedo, and they get to do it on their home turf. That game kicks off at 7:30 p.m. on Nov. 2.