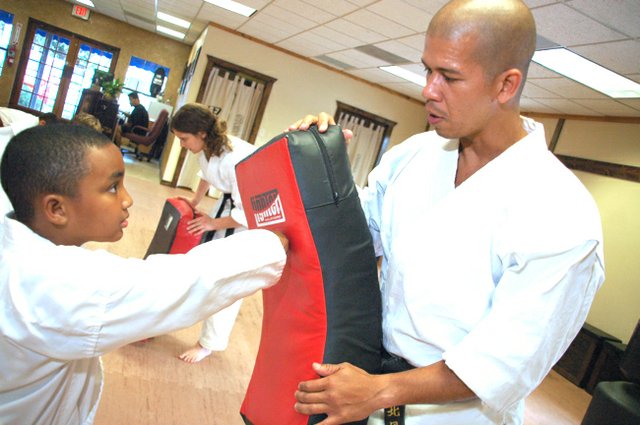 A drive-thru that once sent money zipping through tubes now gives kids a space for their kicking, punching and Japanese calligraphy.
There aren't piles of cash behind the foot-thick safe door — just regular old chairs and paperwork. Boys and girls change into their crisp, white karate gi, tied up by belts colored with accomplishments, in cubicles originally meant for bank managers.
A former Oviedo bank gained new life last summer. The space now houses Taylor's Fitness Club and North Wind Martial Arts Academy. Locals James Taylor and husband-and-wife team Brent and Janis Nakagama opened their gym June 1. The space was a Fifth Third Bank location several years before.
Their center offers personal one-on-one fitness training and martial arts classes for all ages. They also hosted a summer camp and are now partners with several area schools and pick up children for their after-school karate program.
Taylor is the instructor for all of the programs. He had always been into fitness and playing sports growing up and could be found doing push-ups before bed at age 10, his dad, Robert Taylor, said. He discovered karate while watching a demonstration at Valencia Community College more than 20 years ago, and that's where he found his true passion.
"I just fell in love with it," he said.
Taylor said karate has helped develop his outlook on life. Its philosophies or "rules of the dojo" have built his character, guided him to clear decisions and helped him become a natural moderator. Those rules are taught to the children who attend his classes.
"I want to bring old traditional karate back to the mainstream again," he said. "It's really been watered down."
His school focuses on the whole culture and mindset behind karate and teaches the students discipline. They must focus, respond and respect their teacher, and if they don't, they'll be doing push-ups then and there. But the students know they've earned it when they pass their test and move to the next belt level, not like at other schools, he said.
"Martial arts has gone to a belt factory," Taylor said. "They don't give them that work ethic."
Janis Nakagama, whose background is in early childhood education, helped run the summer camp. She said that many of the children who attended improved their behavior at school. The rules and character traits valued at the school — for example, to honor the principles of courtesy — really work in everyday life. She and her husband saw that in their daughters too. Both are black belts who studied under Taylor for nine years, and karate helped them develop greater self-esteem.
"They were always very comfortable about being able to handle themselves in any situation," Brent Nakagama said.
It was a natural choice for the couple to partner with Taylor because of their history.
"His passion for it — you can just see his love and his knowledge," Janis said.
They want their school to build up its student count, but not get too large. Individual attention to each student's strengths and needs are what they always want to focus on. They hope to foster a real family feeling among members of their "dojo" (school).
"The best dojos give a sense of belonging, community, a tribe feel," Brent said.
Taylor's karate attitude translates well to his personal training program, too, clients said. Sandy Parmele, who has been training with him for four years, had plenty of gym memberships over the years that she never wanted to use. Taylor changed all of that. Parmele had had two heart attacks and broken bones, and she went to him to get in shape.
"I'm definitely stronger in so many ways," she said. "I've had tremendous results, both mentally and physically."
For more information about Taylor's Fitness Club and North Wind Martial Arts Academy, visit www.taylorsfitnes... or call 407-365-1151.
Parmele said Taylor is professional, encouraging but not too pushy, and knows how to get her moving. He embodies the control martial arts teach.
"There's a peacefulness about James (Taylor) that's hard to explain … it infuses the place," she said.
His father, Robert, said it's all part of his plan — to create a space for people to be healthy, work hard and gain a greater sense of self. Brent said it's simple — while many things in life give instant gratification, karate is not one of them. It takes many years to learn, but the benefits last a lifetime. And that's what they're all about.
"He's got a vision," Robert said.