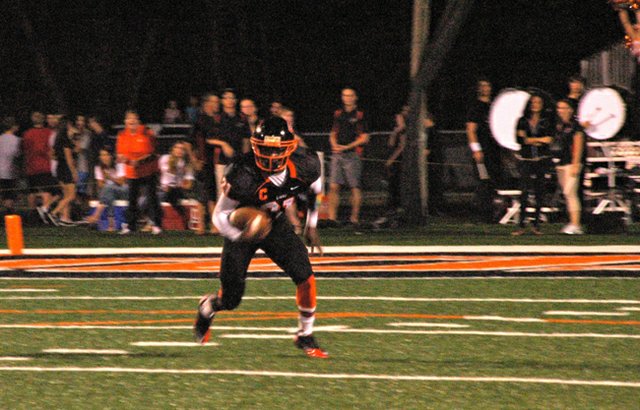 The Lions destroyed Seminole on the football field on Sept. 7 and then watched the Seminoles gradually mount a comeback over three quarters that almost led to an upset.
It was the Jurell Green Show on the ground as the Lions' leading rusher ran the ball 27 times in the game while racking up 155 yards in the process. Those fleet feet would march the Lions into the end zone all four times that they scored touchdowns.
Most of the Lions' work was done on the ground, as three rushers, including quarterback Chris Davis, combined for 213 yards rushing, while Davis threw for 52 yards, completing 9 of 11 attempts.
Meanwhile the Seminoles proved they had their air game together, with quarterback Horonadis Tillman throwing 246 yards of passes, but they only had 9 net yards on the ground.
Not fearing a run game, the Lions' defense had a field day on Tillman, forcing him to lose 41 yards in scrambles.
But after a wild first quarter where the Lions scored 21 points to the Seminoles' zero, the Seminoles gradually came back, bringing the score to 30-27 before the Lions could finally shut them down.
That win put an exclamation point on their first week 60-7 blowout of Lyman. At 7:30 p.m. Friday, Sept. 14, the Lions will travel to Lake Brantley to face a foe that fell to Apopka 15-9 after some crucial injuries. They'll face Lake Howell the following Friday, Sept. 21, at home. Then the Oviedo teams will face off, as Oviedo and Hagerty take to the Hagerty field on Sept. 28.
Hagerty
The Huskies took a week off after an embarrassing 7-2 loss to Winter Springs in the first week of the season. Now they face Timber Creek on the Wolves' home field. The Wolves hosted Ralston Valley from Arvada Colorado for their first game of the season, losing 30-23, then blew out Freedom 31-7 for Game 2.
The teams kick off at 7:30 p.m. Friday, Sept. 14, at Timber Creek. On Sept. 21, they'll travel to Lake Mary before meeting Oviedo on Sept. 28.
Winter Springs
After edging the Huskies in Week 1, the Bears were blasted by Lake Mary on Sept. 7 in a 33-0 shutout loss. Lackluster defense on the Bears resulted in 184 yards passing for Jake Tipton, whose favorite target Nicholas Westbrook-Ikhine went 124 yards on 6 receptions. The Rams' balanced offense piled on 243 yards rushing, led by Keiyshard Bobb with 98 yards.
The Bears have a shot at redemption coming up this week, facing a struggling Lyman on the road, kicking off at 7:30 p.m. Friday, Sept. 14. They'll face Lake Brantley on Sept. 28 at home.