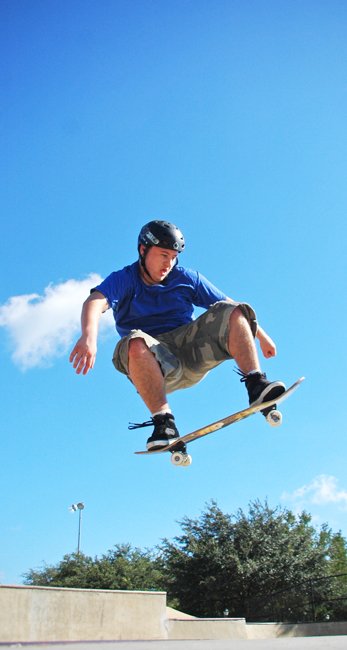 Evan Meyer approaches the top of the skateboard ramp as his eyes squint in concentration. His feet firmly planted on the grip tape of his Tony Hawk Huckjam skateboard, Meyer braces himself, leans forward and rolls down the two-foot slope.
The 10-year-old skater from Oviedo has been skating for five months, but he's finally getting his first lesson at the city of Oviedo's skate park at 1608 Lockwood Blvd.
Rippin' Riverside Skate Park, part of Riverside Park, provides a safe place for kids to skate, offering lessons and competitions.
The park's 30,000 square feet of concrete slopes include benches, stairs to jump, rails, ledges, a large empty pool structure called a flow course and several smaller ramps that have been added over the years.
"It keeps skaters off the streets and it keeps skating safe," said Vicki Meyer, Evan's mother. "It's a nice place where kids can come hang out and where skaters can meet other skaters where they wouldn't if they just skated in the neighborhood."
Rippin' Riverside welcomes 7,000 to 8,000 skaters each year, skate park supervisor Antonio Ortiz said. With many of the visitors skating for the very first time, lessons are available for skaters ages 5 to 13, focusing on the very basics and tailoring lessons to each skater's strengths and weaknesses.
Competitions are also held every Friday night for points, which are added up at the end of every quarter to decide who walks away with a free skateboard deck.

Ortiz gave his own thoughts on what the park does for the Oviedo community.
"It's a great amenity for the community, because you can bring your young one who's 10 years old or less, watch them skateboard for a couple hours, see your kid grow into it and they might want to keep doing it for the rest of their lives," Ortiz said. "Who knows where it takes them."
For skateboarding instructor Damien "DJ" Gravois, skating has taken him right where he wants to be: on staff at Rippin' Riverside.
Gravois was one of the original skaters who used the park when it first opened in July of 2003. Living less than a mile away from the park and skating day after day, Gravois said that his parents often joked about Rippin' Riverside being his second home.
Now that the skate park employs him, Gravois said that his dedication has paid off.
"I don't see it as getting paid — I see it as getting paid back," Gravois said.
A local skate park doesn't only keep kids safe, he said, but it also keeps them out of trouble with the law.
"I know that in the city of Orlando, and in most of the greater part of Orlando, if you go skating on a long board down the city sidewalks, the cops will write you a ticket, take it from you and take it to the police station. They have zero tolerance; they're very strict on that," said Gravois, who's been skating for eight years.
"The police are doing their job; you don't want to mess up the nice benches in the city. Come mess up our benches that are made for that."
Since Rippin' Riverside's construction, cities such as Clermont, Cocoa Beach and most recently Lakeland have also reached out to the park with questions about building their own skate parks.
Rippin' Riverside Skate Park is at 1608 Lockwood Blvd. Sessions for skate park members cost $3 from Monday through Friday and $5 from Saturday through Sunday. Sessions for skate park non-members cost $7 from Monday through Friday and $9 from Saturday through Sunday. To sign up for sessions or lessons, a waiver must be signed beforehand. For more information, visit http://www.cityof... or call 407-971-5585.
With a new series of lessons starting up, Rippin' Riverside is looking to attract a new young generation of local skaters to occupy the park.
Christopher Fallon, one of the park's older skaters at age 46, has been skating since 1979, and brings his daughter Kathryn, 12, and son Gavin, 15, to skate with him.
"There's no doubt about it that having a skate park is essential to any city. I think every city should have one," said Fallon, who's been skating at Rippin' Riverside for three years. "Skateboarding is a dangerous sport and if it's left out in the cities, bad things can happen. It's key for any city to have a park where kids who want to skateboard can come and safely do it."