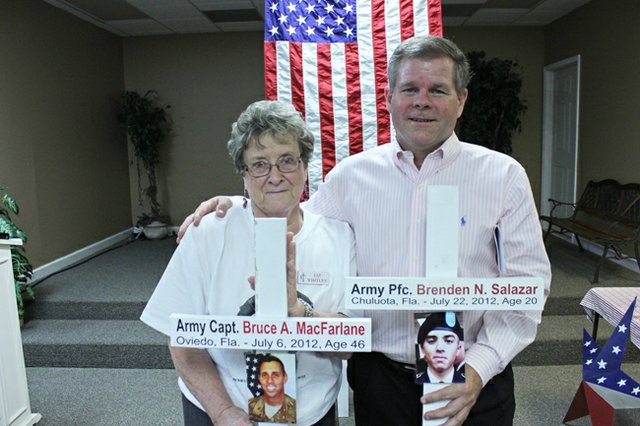 In an overfilled three-inch binder in her office, Liz Whitley keeps all the thank you letters she's received in the past five years. Some are short and sweet, others lengthy and emotional. And nearly all have traveled halfway across the globe to get there.
The letters are written out of bunkers and bases from soldiers, often deployed in Iraq and Afghanistan, and make their way to the box of First United Methodist Church of Oviedo where Whitley reads and files each one.
Since she started the Military Support Group as outreach for the church in 2007, Whitley estimates she's been in touch with more than a thousand soldiers from across the country and stationed around the globe. At last count, Whitley said she's sent 900 soldiers care packages of cookies, treats and necessary supplies to so far. In return she's heard stories of loss, love and war.
Fathers feeling isolated from their children and families. Twenty-somethings trying to cope with witnessing fellow soldiers and friends killed in combat. Stories of men and women struggling, and thriving, while serving their country.
"It's put me in contact with thousands of soldiers and their stories …They remind us why we're here and the importance of what we're doing," Whitley said.
In the span of two days in July, the highs and lows of the situations the group supports became a stark reality for Whitley and the support group.
On Thursday, July 5, Whitley opened a package like the hundreds she'd gotten before. Addressed from Afghanistan, it included a letter and plaque of appreciation from Capt. Bruce MacFarlane.
MacFarlane, of Oviedo, along with the chaplain at his base in Kandahar, Afghanistan, were working to set up an orphanage in the city outside the base for children in need. His wife, Kris MacFarlane, had contacted Whitley and her group to get involved mailing books and school supplies her daughter Chloe's Girl Scout troupe collected to support her dad's effort. Nineteen boxes packed and shipped later, he wrote to thank the Military Support Group for their help.
On Friday, July 6, Whitley answered a phone call from Kris. It was then she found out Capt. MacFarlane died that day in Kandahar supporting Operation Enduring Freedom.
With that, Whitley and her group sprung into action, bringing food and offering any services they could to the MacFarlanes, including providing tables upon tables of baked goods for his celebration of life.
"To see that was just…" Kris trailed off, her voice breaking as she moved her hand to cover her heart. Whitley, wearing a remembrance shirt with Bruce's photo on the front, stood and hugged Kris tightly as she did her best to finish thanking the group for all they'd done at their meeting on Sept. 9.
"I contacted Liz because I thought I could help her and the group," Kris said, leaning into Whitley, her arm wrapped around her shoulders, "but in the end she's been the one who's helped me."
Whitley says her group will offer physical, emotional, any type of support system she can gather together, to military families locally and across the country. They cut out hundreds of gold stars of fabric to mail to every soldier the group is put in contact with; they sew hundreds of camouflage-print Christmas stockings and bake an average of 16,000 homemade cookies for care packages per year.
Whitley, a military mom herself, has traveled to military bases and hospitals across the country to deliver the support in person. She's delivered special handmade lap blankets that won't get stuck in prosthetics for wounded soldiers with amputated limbs. She's furnished and decorated barracks for single soldiers returning from war.
"We want to do everything we can to support them, and let them know we remember them and recognize that they're doing for our country," she said.
To support all 362 soldiers of "Florida's Fallen" lost in the wars in Iraq and Afghanistan, Jim Vanderbleek, of St. Petersburg, has created and traveling memorial of personalized white crosses – one for each soldier – to display at events honoring military heroes. The tribute, he said, has been his way of making sure each soldier killed is not forgotten.
Angie Wingert, Bruce MacFarlane's sister, says the support her family has received from the community in the months since his passing has been more than they could have ever anticipated. From the church group's in-person support, outreach from the national non-profit Tragedy Assistance Program for Survivors, and hundreds of heartfelt letters from across the country received through the Soldiers' Angels initiative, Wingert says the compassion has been overwhelming.
"You want to feel not forgotten; you want to feel remembered and that the sacrifice that's been made was not forgotten… it's been great support for my sister-in-law and all of us," she said.
"It's amazing how the little town of Oviedo came together for our family," she said. "This town really stood up for their soldier."
It's knowing that families such as the MacFarlanes have a support net to fall back on, Whitley says, that keeps her group going. Even with deployment numbers overseas dwindling downward, she said there's no lack of need for their services for soldiers at home and abroad.
"Being a part of this group," she says, "it's really just been the greatest thing I've ever done in my life."
To learn more about the First United Methodist Church Military Support Group, visit fumco.net/832687 The group meets the second Sunday of every month in the church, at 263 King St., in the fellowship hall.