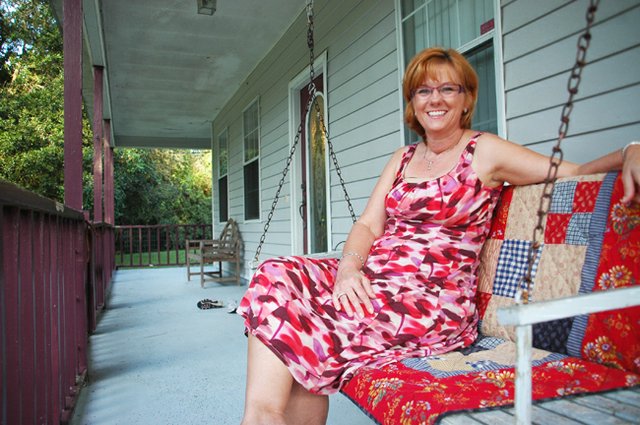 Mary Smith sat on the couch in the living room of her Geneva home, curled up in a patchwork quilt with her eyes closed in deep thought. The quilt tucked around her was a gift from close family friends reminding her of a time of recovery from an illness that nearly took her life. She's glad to be home, and she's glad to be alive.
The 47-year-old suffered through a series of respiratory failures caused by the H1N1 virus two years ago.
What first appeared to be bronchitis turned out to be swine flu, a severe case that became nearly deadly due to Smith's existing multiple sclerosis and the medication she was taking to suppress her immune system. As a result, Smith developed pneumonia, acute respiratory distress syndrome (ARDS) and sepsis, a bacterial infection of the blood.
Dr. Eliseo Colon at Central Florida Regional Hospital told her family she had less than a one percent chance of survival.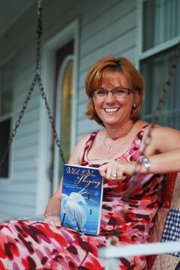 "The combination of having the MS, being on that medication and the string of odds of coming across someone who had swine flu was just all a recipe for disaster," said Smith, who has lived in Geneva since 1978. "It really floored everybody."
Symptoms began to flare up in late February of 2010, with doctors calling them allergies and sending her home with antibiotics and cough syrup.
What happened next over a period of 77 days became Smith's journey of survival and recovery, a story that she commited to memory and later wrote about.
On the night of March 5, 2010, Smith was rushed to the emergency room at Central Florida Regional Hospital after her husband noticed that she was turning gray.
An X-ray showed that her left lung was near collapsed and her right lung was not far behind. Her oxygen level was only at 43 percent of normal, and she needed to be immediately ventilated.
In a desperate effort to save her life, Colon ordered a RotoProne bed, a modern day iron lung that helps get oxygen into the lower lobes of the lungs.
On her fifth day at the hospital, she was put in a medically induced coma, given paralyzing drugs so her breathing could be controlled, hooked up to a ventilator and put inside the RotoProne bed.
Doctors expected that Smith would be in the bed for three days. Whether she would come out alive, they didn't know.
"The hardest part was definitely when she was in the RotoProne bed, because I couldn't see her or talk to her," said Kimberly, Smith's youngest daughter. "It's hard just talking to a giant wall."
Kimberly had just gotten her driver's license and did whatever it took to spend time with her mother, even quitting her job at her neighbor's pawn shop and skipping class at Oviedo High School whenever possible.
After nine days, Smith was pulled out of the bed — she was alive. But she was still temporarily paralyzed and was only able to turn her head from side to side and extend her feet forward. Smith also had a breathing tube placed in her throat to give her oxygen.
Despite her recovery, Smith's life was nearly cut short one night when she suffered a pulmonary embolism, which is when a blood clot comes up from the leg, goes up into the lung and cuts off part of the arterial blood vessel, stopping the blood flow that moves the oxygen throughout the lungs.
Almost completely paralyzed, without a panic button and unable to speak, Smith couldn't breathe.
Her nurse was on break.
Knowing that she could move her feet slightly, Smith gathered strength and kicked against the foot board of the bed as hard as she could. Another nurse noticed just in time.
"I really just thought I was going to die; I thought that was it," Smith said. "I just had to pray."
Smith said that her faith is why she is still here today.
"It had everything to do with it," said Smith, who attends Oviedo East Congregation of Jehovah's Witnesses. "It's the only reason why I'm here."
After spending 39 days at Central Florida Regional Hospital, Smith was transferred to Select Specialty Services in Orlando, where she would be weaned off the breathing apparatus that had helped her lungs.
There, Smith was faced with yet another obstacle: the possibility of never walking again.
A doctor told Smith that she'd never walk again because her MS was preventing her from overcoming the paralyzing medication, and that she should get used to the idea of being in a wheelchair for the rest of her life.
"I let it depress me for a little bit, but then I thought 'Nope, that's just gonna motivate me even more so to fight, to walk again and to use my limbs again,'" Smith said. "I wasn't gonna let him be right."
Smith spent two weeks at Select Specialty Services preparing for her last step of recovery: Consulate Health Care and Rehab in Altamonte Springs. There she received occupational and physical therapy, learning to use her arms again by moving rings across a metal bar above her head and doing stationary bicycle and stepping exercises for her legs.
She also had to learn how to talk again — the right side of her face was paralyzed.
By the end of her three and a half weeks there, she was up and walking. She made nearly a 100 percent recovery, aside from scarring on the inside of her lungs from the pneumonia.
"This is quite miraculous how far she came," said Dr. Radhika Verma, who also oversaw her care at Central Florida Regional Hospital. "One of my other partners, Dr. Smith, was also involved in her care and three months later, when she came to the office and I introduced her to him, I said 'Do you remember that lady I had in the ICU that we had in the RotoProne bed? This is her.' And he couldn't believe it. He said, 'She survived?'"
Though Smith faced many personal challenges, she was not without support. Along with her daughter Kimberly, her other daughter Caroline, her two sons Charlie and Randall, her brother Kevin, her father-in-law Charles and especially her husband, Daniel, were there to comfort her.
"The hardest moment was knowing how difficult it was for my family and friends not knowing day to day if I was gonna make it or not," Smith said. "It was an emotional rollercoaster for them. As I say, 'I got to sleep through it all.'"
Smith continues to have follow-up appointments with her neurologist every six months, as well as with her hematologist.
Last February, Smith published a book chronicling the 77 days she spent at the three facilities. Titled "While I was Sleeping," the book was a source of therapy for her.
Wrapping herself tighter in her quilt, Smith played with a necklace she was wearing: a 27th wedding anniversary gift she received from her husband just a month after leaving Consulate Health Care and Rehab. She had made it back home.
"It was really that last week in that third hospital where I started standing up, and next thing you know, taking a couple steps. The one thing I told my physical therapist, I said, 'When I can walk from this room to the front door, I'm going home,'" Smith said, a smile spreading across a face that was once half paralyzed.
"And that's what I did."