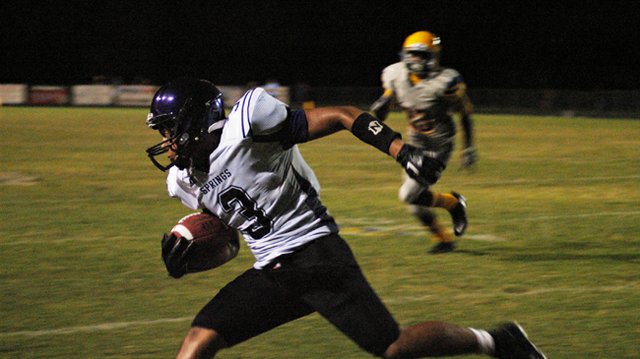 Winter Springs
It was a 10-yard fight for most of the Bears game against the Lyman Greyhounds, but in the end, the Greyhounds strung together just enough to win 17-6 on Sept. 14.
The loss turned Winter Springs' formerly winning season upside down at 1-2. They edged Hagerty in the first week then were demolished by Lake Mary 33-0 in Week 2.
Early offensive misfires led to a series of punts and turnovers for the Bears, who had trouble crossing the 50-yard line on many possessions. The Bears' defense took advantage of Lyman on a few botched plays to get the ball back, but the offense failed to capitalize.
The loss comes at an inopportune time for the Bears, who on Sept. 28 will face a Lake Brantley team that beat Oviedo 42-28 on Sept. 14 and are odds-on favorites to take Lyman on Sept. 21. The Bears will take a one-week break before that starts, with the game kicking off at 7:30 p.m.
Oviedo
It was another big game for running back Jurell Green, who scampered for 159 yards on 20 carries against Lake Brantley (2-1) on Sept. 14, but a 42-28 loss stung the Oviedo Lions (2-1) as a team.
Chris Davis threw for 162 yards on a 50 percent completion rate, including two touchdowns, but it wasn't enough to overcome the offensive juggernaut of the Patriots, who were only forced to punt once in the game. Not that the Lions defense wasn't trying, with Tristen Perko grabbing 10 tackles and Kavion Alexander and Taylor Cunningham snagging nine each.
Defensive back A.J. Coney grabbed an interception and ran it back 42 yards for the touchdown to add some excitement for Lions fans, but in the end it wasn't enough.
The Lions host Lake Howell at 7:30 p.m. on Sept. 21, a welcome respite after the Lake Brantley game. The Silver Hawks are off to a 0-3 start, with 65 points allowed in those games while scoring a cumulative 8 points.
Hagerty
After their gradual improvements over the last few seasons, a 0-2 start is an unexpected one for Hagerty. They fell to Timber Creek 41-7 on Sept. 14.
The Hagerty defense let the Wolves spread out the offense, allowing 269 yards on the ground and 158 in the air.
At 7:30 p.m. Friday, Sept. 21, the Huskies will travel to take on a Lake Mary team (3-0) that's accelerated in offense since the start of the season, shutting out Winter Springs 33-0 and then Ocoee 44-0.