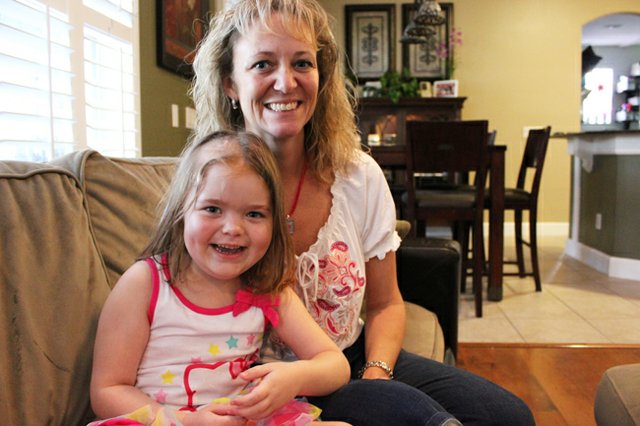 As they do every week, the members of six football teams and six cheerleading squads showed up to their Hagerty Pop Warner practice just before 5:45 p.m. on Thursday, Sept 20.
The boys carried their helmets and cleats toward the field in one hand, while the girls juggled their pom-poms and water jugs in theirs. In the other hand, nearly all of them carried the other item they needed for practice that night – an inflated soft pink, purple or gray balloon tied to a matching ribbon.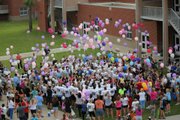 At exactly 5:45 p.m., the group gathered in the Hagerty courtyard, balloons in hand. A little girl on her dad's shoulders watched over the crowd as the minute hand struck and the hands on the balloons let go, sending more than 100 balloons into the air.
Notes tied to the ends of the balloon strings slowly lifted above the girl's head, until the handwritten "Cheering for Caitlin" and "Get better soon, Caitlin" messages were just dots in the sky.
The next day, the cheer spread to Partin Elementary, where the girl watched from her kindergarten classroom as the school around her turned rainbow bright. Students wore mixed-matched rainbow clothes, and rainbow posters lined the hallways. A banner declared it "Cheering for Caitlin Day."
For the Downing family, every day this year since Friday, Jan. 13, has been a Cheering for Caitlin day. That was the day the little girl went from a normal Oviedo 4-year-old to the little girl from Oviedo with the "stinky bump" in her brain. The stinky bump, known medically as diffuse intrinsic pontine glioma (DIPG), is an inoperable cancerous brain tumor located on the pons of the brain stem, which the girl's oncologist, Dr. Amy Smith with the MD Anderson Cancer Center, refers to as "a uniformly fatal disease" with an average life expectancy after diagnosis and radiation of eight to 15 months.
Keep up to date on Caitlin and her fight against DIPG by reading mother Denise Downing's blog at cheeringforcaitli.... To read our initial story about Caitlin and her family, visit http://bit.ly/SRp...
Since word spread of the girl's diagnosis, the Oviedo community has worked to make every day a Cheering for Caitlin day in its own way. If a rainbow is spotted anywhere in Central Florida, photos will flood the family's Cheering for Caitlin Facebook page. A neighbor sees another neighbor driving around with a gray Cheering for Caitlin ribbon magnet on their car? The posts of appreciation and connectivity go back and forth.
The community sprung into action when Denise Downing posted a new blog on Friday, Sept. 7, reading: "I have read that the worst words a parent can hear are 'your child has cancer.'… I have changed my mind. The worst words you can hear as a parent are 'your child's cancer is back, and it's growing.'"
"Everyone is trying to do something," said Terri Jo Samillano, coach at Double Down Athletics where Caitlin's sister Courtney takes cheer lessons.
Her mother, Tracie Samillano, had helped arrange for the Hagerty Pop Warner football season to be dedicated to Caitlin. Cheerleaders, including Caitlin, and football players, including her brother Cole, wear gray shoelaces and ribbons on their uniforms or in their hair as an outward support for Caitlin and her family. They also organized the balloon release in her honor.
Teachers at Caitlin's school, Partin Elementary, organized the Cheering for Caitlin day and brought in Caitlin's family and a lunch catered by Chili's to celebrate the little girl's sparkle and lightness despite her ongoing medical fight.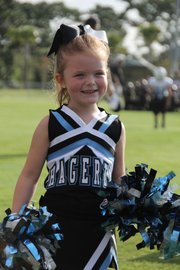 On Sunday, Sept. 30, TJ's Seafood Shack is partnering with Double Down to host a free pancake breakfast with donations going to the Downings. Owner Tim Shepardson is turning the event into more of a block party than a simple breakfast.
"It's going to be huge," Shepardson said. He's anticipating up to 500 or 600 people to show up and the plaza's parking lot to be filled with food trucks, fire trucks and likely a live band, in addition to the breakfast of pancakes, fruit and sausage being served indoors.
Shepardson's daughter takes cheer with Caitlin's sister Courtney at Double Down. He said when he was approached to host an event, he was more than happy to contribute anything that could help the Downing family.
For more information about the Pancake Breakfast hosted at TJ's Seafood Shack from 8:30 to 11:30 a.m. on Sunday, Sept. 30, visit the event's Facebook page at http://on.fb.me/S.... The event is open to the public, and all donations will go back to the Downing family.
"It's as much TJ's doing something to give back, as it is trying to do right by the community and giving people an opportunity to come together with their friends and family," he said.
On a once-monthly basis, when causes arise, TJ's opens early on a Sunday to host these community pancake breakfasts, Shepardson says, to bring the community together for some comfort food and a good cause.
Terri Jo, also a close family friend to the Downings, said watching her cheerleaders, friends and even people who don't know Caitlin or her family continue to come together has been the most inspiring act of community she's ever seen.
"It's an absolutely amazing thing," she said.