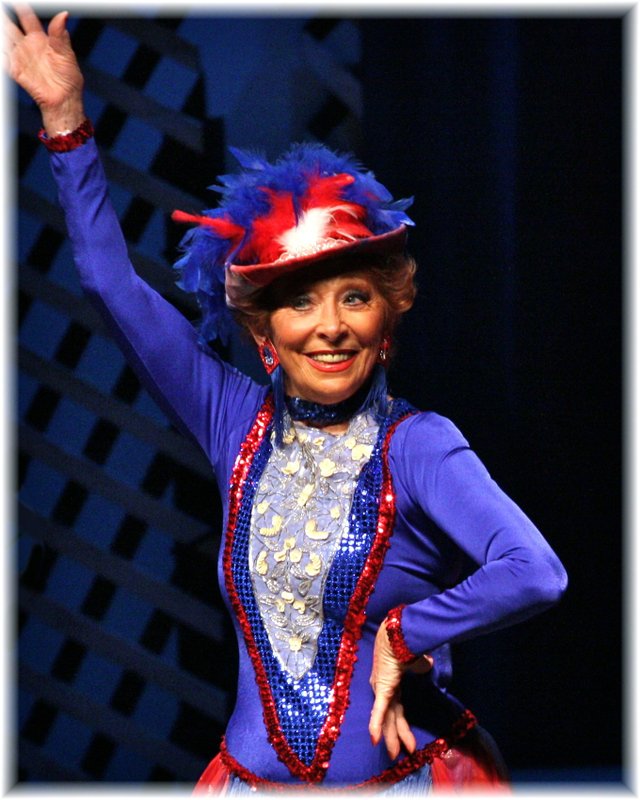 They're tap dancing, singing, rocking some high kicks and short skirts, and not one of them is younger than 55. There are no rocking chairs, no long games of bridge or afternoon tea.
What the Fab Follies have going on is something special, Director Elizabeth Taylor says. She likes to think they break stereotypes for seniors, take what people imagine they should be doing in their spare time and turn it on its head.
"You see people my age … not doing anything that I can see to stimulate themselves or anybody else," Taylor said.
What her senior-filled theater troupe the Fab Follies does is give volunteers a way to continue to share their talents and time. They aren't your average older crowd. Members of the group spend two afternoons a week at the Casselberry Recreation Center sharpening their singing, dancing and acting skills while rehearsing for their current show, "The Best of Times."
"It's a musical extravaganza," Taylor said.
The troupe was started in 1998 when Taylor was working for The Orlando Repertory Theatre. She noticed lots of grey hair in the crowd but not a single one onstage. That just didn't make sense to her.
"You have to do something for the people who come to your shows," Taylor said.
And so the Fab Follies were born. She spent three seasons directing them at The Rep and then moved to Casselberry in 2001. Her mission is to create great shows by seniors that appeal to seniors. And if you take a look, she said, they'll be interesting to a lot of younger people too.
In their current show, they'll give patrons a taste of the past. The Vegas-style show features golden oldies to transport each person back to special moments from their younger days. And the troupe, which features about 30 members, both men and women, isn't afraid to strut their stuff or work the crowd for laughs.
A few ladies give an alluring rendition of "Hey Big Spender," with hip sashays and seductive points to the audience. Miriam Kreindel, who proudly states she's the oldest member at 87, spends rehearsal as an airhead dancer and slightly tipsy bar customer. Her character is finally whisked away — or maybe just hilariously carried out — by two guys who've just had enough of her shenanigans.
"It makes me feel good about myself to be able to entertain people and make them laugh," Kreindel said.
And that opportunity to perform, whether it be belting out a tune or tapping across a stage, is something that many of the members didn't have at their age before the Follies began 14 years ago.
"I was looking for a group like this to dance again," said Bobbie Collins, a dancer and Taylor's secretary. "It's something I was looking for my whole life."
The Fab Follies will be performing their show "The Best of Times" in Deland at the Athens Theater on Sunday, Oct. 14, with more shows and locations next year. For more information about the Fab Follies, and to purchase tickets, call 407-699-6222 or visit www.FabFollies.co...
And they've really found a home with the Follies. Many past members who have retired from the troupe come back to watch the rehearsals and attend the shows. For them, this is a place to come and socialize, feel connected and get support. They all gain lifelong friends. For Taylor, who lost her husband and has two busy adult children, it's a relief to know she can count on her group for anything.
"My family has become this family," she said.
And every performer said it keeps them young and makes them feel good. For Kreindel, there's just something missing during those summer months when the group is on break from rehearsal and shows.
"When you have a purpose and something to look forward to it keeps you going," Kreindel said.
"It gives such a sense of self worth as you age," former member Rita Schneider said. "I've learned you never say you can't do something as you get older — never say die."
They hope they can inspire other seniors to take life into their own hands, not sit still and take chances on new experiences or relive old ones. Audience feedback and the growth of their troupe has shown it's been working, Taylor said. For the younger people, they want to inspire them to value their seniors and be entertained. Many youths have told Kreindel that they look up to the 87-year-old woman she is today.
"They say, 'I want to be just like you when I grow up.'"