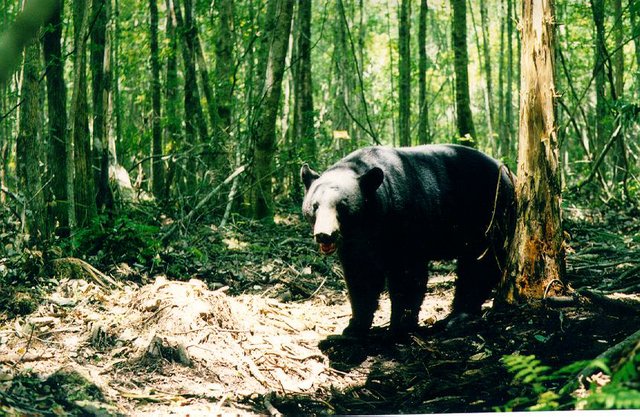 The distressing attack of Longwood woman by a Florida black bear early this month has created controversy over how state officials have dealt with finding the bear responsible and controlling incursions of wildlife into neighborhoods.
The Florida Fish and Wildlife Conservation Commission stepped in immediately after a large black bear attacked Susan Chalfant while she walked her two dogs in her gated community off English Ivy Court in Longwood on the night of Dec. 2.
Chalfant suffered severe injuries to the head and face.
"This incident is the most serious we've had in the state's history," said Florida Fish and Wildlife spokesperson Karen Parker. "We've had about 15 people scratched or injured in some way, but not as significant as this was."
Florida Fish and Wildlife have captured six bears since the incident by using three large closing-cage traps near the site of the attack, luring them in with donuts, grape jelly and dog food.
The two bears that were captured and euthanized since the attack were found to have no connection to it, DNA findings issued Dec. 17 revealed.
A third bear, a large female, captured on Dec. 9 – but not killed – was found to be a DNA match to the attack. Florida Fish and Wildlife announced that the bear will not be euthanized, but instead transferred to Busch Gardens in Tampa along with her two already-captured yearlings. A third cub was hit by a car days after most of the events unfolded.
Controversy arose over the fate of the other two bears who were captured and euthanized between Dec. 4 and 9.
The two adult bears were identified as being similar to the bear from the incident and were immediately euthanized, without any absolute proof.
Samples of DNA from all six bears were sent to a lab in British Columbia to compare them with DNA from the bear that attacked Chalfant.
"The second and third bear matched the size of the bear that was involved in the incident, so both of those bears were put down," Parker said.
"This was a very serious incident. We're doing our best to find the bear that was involved."
But local residents weren't pleased that bears were put down without knowing for sure if they were responsible for the attack.
"I don't think that's right," said Longwood resident Darrell Dwight. "They need to definitely be sure."
Other residents such as Kim Isert from Oviedo blamed increasing development in the wilderness for forcing the bears into urban areas.
"I don't think they should have done anything unless they were absolutely, positively certain it was the bear," Isert said. "There's a reason why these bears are in residential areas … their natural habitat is being developed; they don't have anywhere else to go."
Public safety guided the department's decision to euthanize the bears, Parker said.
"We err on the side of public safety; that's our top priority," Parker said. "I know a lot of people were very upset about that. We don't like putting bears down."
The Ocala Forest north of Longwood contains the largest population of black bears in the state, Parker said.
Records kept by Florida Fish and Wildlife show that the black bear population has grown steadily thanks to conservation efforts, growing from several hundred in the 1970s to more than 3,000 today.
But the number of bear encounters near homes have gone up as well, with numbers kept by Florida Fish and Wildlife showing record highs over the past 10 years. They received 6,159 calls from residents in 2012 – more than quadruple the number they saw in 2002.
Coyote sightings have also sprung up around Seminole County, as well as the neighboring areas, Parker said.
"There's coyote sightings in all 67 counties in the state," Parker said. "They are very adaptable in urban areas."
"The same rules apply for coyotes as other wildlife: don't feed them and if you see them in your neighborhood while you're walking your dog, carry a golf club or a stick or a shaker can where you can haze the coyote to make it fearful of people."