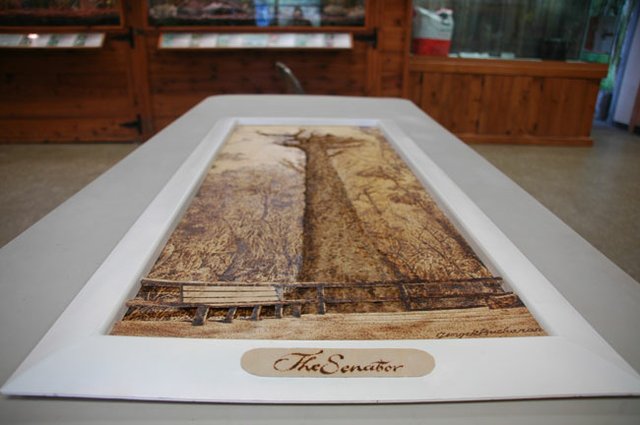 Nearly two years after The Senator, the oldest and tallest cypress tree in the world, burned down in an arson fire, a new tribute to the Seminole County landmark looms in the near future.
Seminole County Commissioners discussed plans to create an exhibit of artwork made from the remains of the fabled tree during last week's County Commission meeting – a lasting tribute to the natural wonder.
The county put out an open bid last year for artists who wanted to use the charred wood to create artwork. Four artists were selected and commissioned to create several works of art for the county in exchange for more pieces of the tree.
Artisans have used the ashes, sawdust and pieces of wood to create a variety of items, including vases, pens, ornate flutes, a bench and sculptures of wildlife.
Leisure Services Director Joe Abel presented some of these completed pieces before the Board of Commissioners.
"It's amazing as I see this stuff come in," Abel said. "I see a piece of wood; artisans see things that are just unbelievable and remarkable."
James Arena in California received several 5-gallon buckets full of ashes to create a glaze, which he used to paint more than 50 unique urns, one of which bears a charred piece of the 3,500-year-old tree dangling from a wire.
Separate from the four commissioned artists, Volusia County resident George Buchanan received a piece of The Senator and used it create a 3D image of the tree made from sawdust mixed with glue, popping off a forest image drawn on a piece of wood with a burning tool.
The county sought to gain an actual likeness of the tree last year when they purchased a clone of the Senator made by North Florida nursery owner Marvin Buchanan, who planted the tree later that year near its original location in Big Tree Park.
County Commissioner Brenda Carey saw the collection of artwork as not only a future addition to the county museum, but a revenue source to help pay back the funds used to plant the Senator clone.
"I'm looking forward to the day in the near future when we get our place of respect for the Senator in our museum," Carey said.
"It may be an opportunity for us to take some of the excess pieces and actually have an auction or something so that the public can acquire some of this and also replace some of the funds we used to get the clone transplanted back in the park."
Abel said the county expects to receive more than 100 items in total over the next year. With so many pieces, Carey suggested having both a permanent and traveling exhibit for the Senator artwork.
"Many of the displays that we get in our museum are traveling exhibits," Carey said. "I could see — once we get it all together and we come up with a number of pieces that are unique and very prominent pieces — that might be an opportunity to have this travel around the country and let others enjoy what we have right here in Seminole County."
County Commissioner John Horan agreed with these sentiments, mentioning how the exhibit would ultimately promote the county museum as well.
"I think that the opportunities here are many and varied for getting maximum exposure for our museum here," Horan said.
"There's no doubt that we'll have a number of items that would be available and of interest for exchange with other museums, based upon the prominence of this particular tree and the place it held in the hearts and minds of people in Central Florida."
Carey vividly remembers what the world's oldest and largest cypress tree meant to Seminole County.
"Before we had Disney, when people came to visit, you went out to see the Senator," Carey said. "I have pictures of my grandparents and their parents and several generations actually standing out in front of The Senator."
"It's really sad that the tree itself was destroyed, but I think that it's wonderful to see some of the pieces that have come from these artisan groups."
Abel said the county should have a detailed game plan and a set location inside the county museum for an exhibit by the beginning of next year.