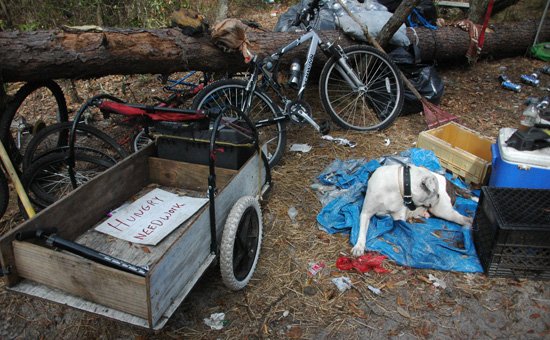 Seminole County residents with nowhere to go but campsites and their cars may now find a place to call home thanks to an ongoing countywide program.
In January, the county launched the Seminole County Homeless Prevention Program, which puts homeless families into rental properties for up to seven months, or up to 21 months depending on their monthly income. Families work to become self-sufficient during this time, while the county pays for their utilities, a part of their rent and works to find them permanent housing.
To handle most of the groundwork, the county works in partnership with non-profit hunger and disaster relief organization Harvest Time International, which takes care of the program's case management side and finds housing for the homeless families in need.
Program Director Valmarie Turner and Pastor John Murphy of Harvest Time International gave an update on their progress as of the end of July during Tuesday's Seminole County Board of Commissioners meeting.
"There's a momentum increase in what we're doing, so we're very confident that we're going to meet all the goals and do it right," Murphy said.
As of July, 41 families have been put in housing and 31 more have been approved as self-sufficient to receive permanent housing.
But the report also shows that of the 613 applications between January and July, 215 remain on a waiting list, and 298 of them have been denied because of lack of income, a criminal background or not qualifying as homeless.
"My initial reaction is that I wish we could be doing more, but I have it under pretty good assurance that we start out slow, that a lot of learning happened and I'm sure we'll finish strong," Commissioner Bob Dallari said. "Anything like this is truly a marathon, it's not a sprint."
Project Coordinator Carrie Longsworth said the biggest challenge the program faces moving forward is in securing rental properties for the homeless families.
"The county and Harvest Time International are dedicated to the success of this program," Longsworth said. "Both parties realize the potential positive impact on the individuals served and the community as a whole."
Homelessness remains an issue in Seminole County. As of June 2013, there were 2,250 homeless students in Seminole County Public Schools, according to Families in Transition. The Homeless Services Network reports that Seminole County serves 23 percent of the homeless population in Central Florida, but only uses 4 percent of the region's inventory of beds.
"There's a lot of needs out there, and the face of homelessness has changed since the economy's changed," Dallari said. "We used to see just people on sides of the road begging for food; it's not that way anymore. Now there's kids that are sleeping in cars with their parents because they're trying to get a good education and trying to figure out what they have to do."
"We're working with these families to try to get them to be self-sufficient and back on their own two feet."
Harvest Time Internal now continues to reach out to other organizations like Rescue Outreach Mission and SafeHouse of Seminole to help support the ongoing cause.