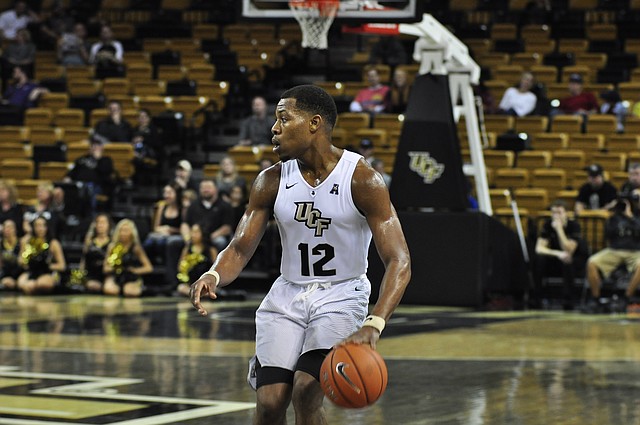 UCF men's basketball
The Knights spent Saturday night making it a lonely one for Dedric Lawson. The Memphis Tigers' star spent all 40 minutes on the court carrying his team on his own with 28 points, and they still lost 72-57.
For the Knights, who featured four players scoring in double digits, it was a victory for teamwork against a Tigers team whose second-best shooter managed only 8 points.
The Knights shot 53.5 percent on the night after ripping open a 14-0 lead before Memphis sank its first basket. The sinusoidal scoring gap to follow for the remaining 35 minutes of play would fall below double digits for only 30 seconds combined. By the end, with A.J. Davis sinking two final silent free-throws, the game was long since over, the Tigers having never come close to holding the lead.
Matt Williams was back at the top of his game with a 20-point performance to lead the Knights, snagging seven boards in the process. B.J. Taylor was close behind with 16 points.
That dominating blowout at home was a refreshing one for the Knights, who had struggled through four-straight conference losses since Jan. 22, when they lost to that same Memphis team on the road.
That turnaround came just in time for the Knights to face a rising force in No. 11 Cincinnati, which has continuously climbed the national rankings all season. On Jan. 29 the Bearcats blasted USF 94-53. They haven't lost a game since Dec. 10. That game tipped off at press time Wednesday night.
Coming up for the Knights (15-8, 6-5) is a bit of a breather as they host UConn at 6 p.m. Saturday. The Huskies (10-12, 5-5) have struggled in American Athletic Conference play and overall. After that, the Knights face another team that has already beaten them this season, hosting Tulsa (12-10, 6-4) at 7 p.m. next Tuesday.
UCF women's basketball
The lady Knights followed at 64-44 blasting of Cincinnati in late January with a pair of single-digit losses to send their AAC record spiraling again.
That most recent loss came from a 22-3 scoring run by SMU in the second quarter that blew open a 31-21 lead that the Knights tried to, but could never close. Aliyah Gregory did her best, blasting 28 points into the basket while playing all but one minute of game time. A 23-18 fourth quarter wasn't enough for the Knights (13-9, 3-6) to catch up.
After a date with Houston Wednesday night at press time, the Knights face Tulsa (8-15, 4-6) next. That game tips off at 2 p.m. Saturday in Oklahoma, giving the Knights a shot at a rematch win after losing to the Golden Hurricane 73-62 on Jan. 21.